SPI's Pension Plan
Public Pensions - Transparency Star Program
The Texas Comptroller of Public Accounts (TCPA) Transparency Stars program recognizes local governments for going above and beyond in terms of City-wide transparency. The information presented below represents the City's dedicated efforts to increase transparency surrounding its Public Pension plan.
The City is a member of the Texas Municipal Retirement System (TMRS) a statewide, multiple employer agent plan. In an agent plan, each participating government's pension is centrally administered and governed by state statutes, but the assets and related pension liabilities for each government are accounted for separately and any unfunded liabilities are solely the obligation of that government. South Padre Island has chosen from a menu of plan options as authorized by the TMRS statute, and its retirement plan benefits are summarized below.
Additionally, all data presented below is available for Download here.
BENEFITS

Upon retirement the employee account balance including interest is combined with the employer match to price a lifetime annuity based on the employee's age at retirement.
COVERAGE
At the December 31, 2021 valuation date, the following count of employees were covered by the benefit terms:
SUMMARY
TMRS provides each of its member cities with two slightly different actuarial valuations which are both reflected below as of December 31, 2021.* The first is a fund valuation which uses a smoothed actuarial value of assets to calculate the City's actuarially determined contribution (ADC) to the plan. The second valuation is provided for Governmental Accounting Standards Board (GASB) Pronouncement 68 financial reporting purposes and reflects the City's fiduciary net position based on the market value of its assets on the reporting date.
*Note that TMRS' year-end is December 31, 2021 and that is the most recent valuation date for which data is available and has been provided to the City.
Results of the most recent valuation: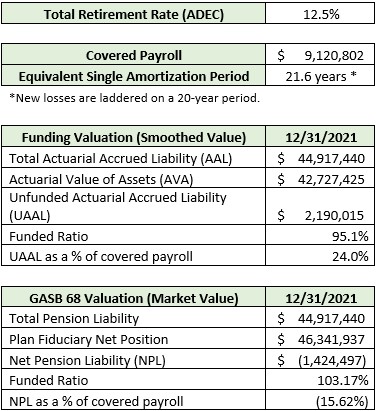 A funded ratio of 80% and above is considered stable for a city. Using both valuation methods the City's funded ratio is currently well above 80%. It is important to note that the primary financial objective of TMRS is to achieve the long-term full funding of promised benefits, and, each calendar year, TMRS informs the City of what its contribution requirements are to achieve this financial objective.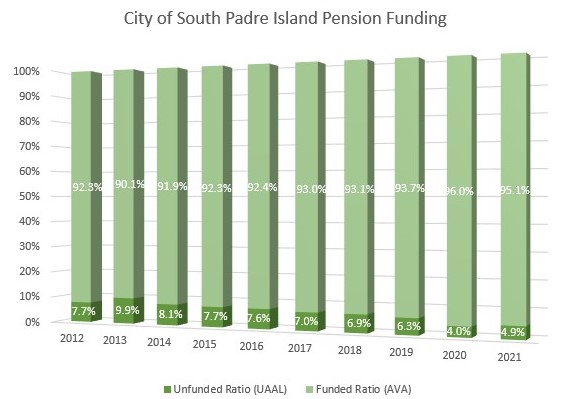 ASSETS and LIABILITIES
The chart and graph displayed below show the City's Actuarial Value of Assets versus Actuarial Accrued Liability in dollars.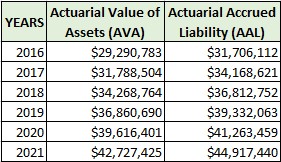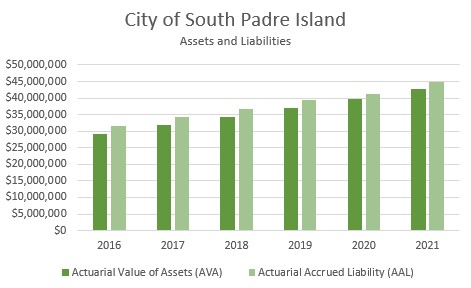 CONTRIBUTIONS
Employees are required to contribute 7% of their annual gross earnings based on the City's plan provisions.

Actuarial Valuations for the Five most recent years:
OTHER INFORMATION
To view the City's Annual Financial Reports, please visit the City Finance Page and select Financial Reports, or click here.
Link to Texas Comptroller of Public Accounts public pension search tool.