The event you are viewing has ended.
Event Date:
Jul 29, 2013 from 10:00 AM - 5:00 PM
Export to Calendar
Event Description:
July 29-31, 2013




Mexican Artisan Craft Fair




SPI Visitors Center




10 AM - 5 PM



The South Padre Island Visitors Center will house the Mexican Artisan Craft Fair from Monday, July 29th till Wednesday, July 31st. Come see the richness and diversity of the Mexican Crafts such as rugs, textiles, crafts and jewelry. Doors open at 10:00 AM. For details please contact Visitors Center Manager, Lili DeRousie at (956) 761-8399 or email lili@sopadre.com. Save the Date!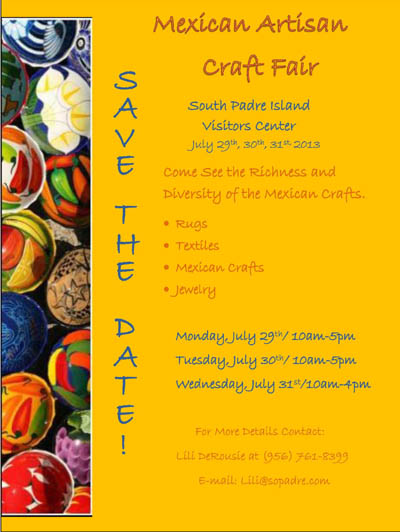 Ticketing Information: