The event you are viewing has ended.
Event Date:
Jul 28, 2013 from 9:00 AM - 3:00 PM
Export to Calendar
Event Description:
July 28, 2013
Sandcastle Summer Contest
The Pearl South Padre Beach
9 AM - 3 PM
1st ever Sandcastle Summer Contest from July 7th to the August 17th with the Grand Championship to be held Saturday, August 24th at Clayton's Beach Bar. Demo castle by master sculptors (9 AM - 11 AM). FREE workshops to learn how to build a better Sandcastle (11 AM - 12:30 PM). Competition to win valuable prizes and the chance to compete in the first ever SPI Open Championship (1 PM - 3 PM). For more information please visit
www.sandcastledays.com
or email Lucinda Weirenga at
spisandy@gmail.com
.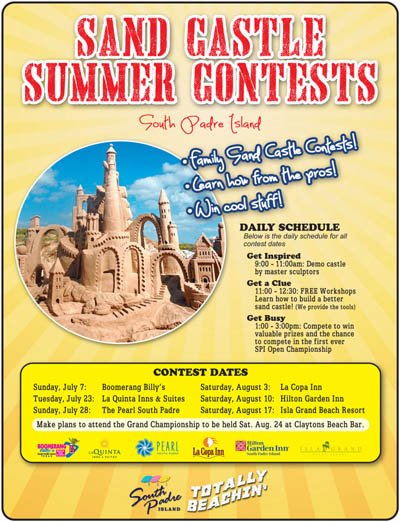 Ticketing Information: